Low cost! - Small Lot Labels - Fast!
For products, Cartons, Pricing, Promotion, Ingredients, Bar Codes and MUCH more.

Black - Blue - Red - Green Grey - Brown Orange - Yellow
No art needed. No plate, copy charges, or bar code charges
Your order includes free layout and sample proof with e-mailed text & art*
Standard Windows ® type faces (fonts) available
Lines, boxes, bar and date codes, serial / sequential numbers
Line drawings and line drawn logos are optional
Minimum order is only $50.00

Labels can also be supplied in 4" width by any length in sheets. Use for warehouse location and signs. Call or E-Mail for quotes on multi-color, optional stocks, other sizes and types. Typical lead time for standard Quick Print labels above is 2 days.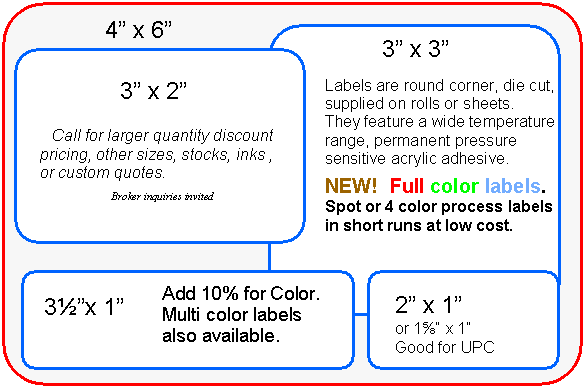 P.O. Box 275
Bayville, NJ 08721
732-269-6300
Dealer Inquires Invited
*Text must be in Microsoft Word 95 or later, Notepad, WordPad, or ASCII text, include font file if specific, non-standard font required. All art must be zipped using PkZip or WinZip and must be in BMP, TIF, or PCX file format, 1 bit (black & white). Small fee for non-electronic text or art setup.